There is now so much choice of Christmas music available for flute choirs that it's difficult to know where to start. In this post I've selected some of my favourites which I can really recommend.

Carol settings abound and the choice can be alarming. The best policy is to pick your carol, and then stick to those arrangers that are proven or whose pieces you have previously enjoyed. My personal favourites are Amy Rice Young, Ann Cameron Pearce and Ricky Lombardo, and all of them have contributed music to which you can return year after year.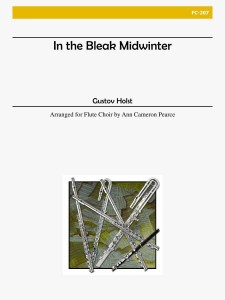 For example, the Pearce version of 'In the Bleak Midwinter' atmospherically shares the tune, accompaniment and descant evenly between the parts and uses the lower instruments to great effect. This is also true of her arrangement of the 'Wexford' carol.
'Wassailing' by Rice-Young has dances from Somerset and Gloucestershire as well as the traditional one from Yorkshire – this is a simple arrangement, even if it is in A major. Her 'First Nowell' (sic) is bright and breezy as is the pairing of 'Good King Wenceslas' and 'Sing We Now of Christmas'.
Lombardo's 'Trilogy of Carols' utilises the versatile expandable format. It only takes four players to perform this, but there are actually 8 parts, including alto and bass flute options plus parts for string bass and percussion.
You might also like to investigate the 'Peace Collection' by Paul Horn. The textures here are simpler, making them ideal for the less experienced group. I particularly like the 'Carol of the Bells' from Volume 3 for the way in which it builds and subsides – most effective.
Foreign carols can often provide a good programme contrast. Take the 'French Nativity Suite', 3 carols set by Kelly Via. 'Il est Ne' is well-known and surprisingly has some swing-rhythm in the accompaniment, but the less familiar 14th century carol from Provence 'Bring a Torch, Jeanette Isabella' is handled simply. Pat-A-Pan is more of a challenge – upbeat with a 5/8 central section and complex ensemble writing which is as enjoyable to play as it is to listen to. Meanwhile, the 'Scandinavian Suites', again put together sensitively by Rice-Young are just lovely tunes which completely illustrate the countries from which they originate. 'Two Preludes for December' by Claudia Bissett will also delight audiences. Scheidt and Praetorius provide the music here and she arranges for double flute choir skilfully.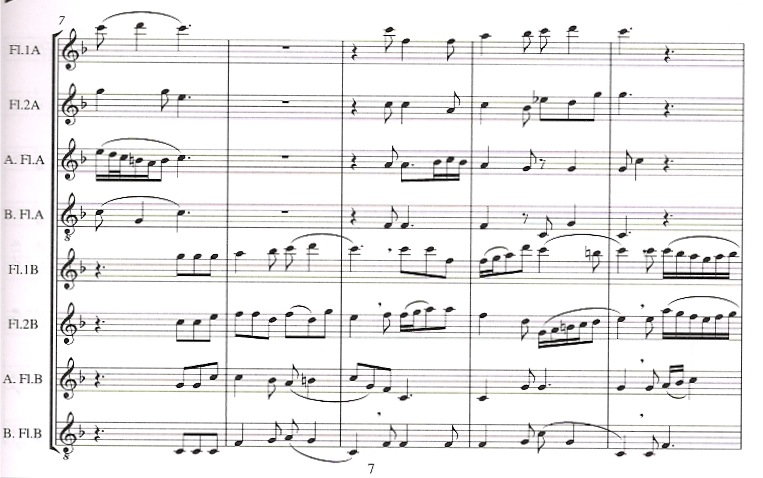 You could take the humorous option. Merging Christmas songs with traditional carols is a favoured route with surprisingly good results! 'The 12 Days of Christmas' (Rice-Young again!), punctuates the main theme with carol snippets. Great fun could be had here with some audience participation. Darlene Dugan's 'A Patchwork Christmas' stitches together various carols to give us 'Noel in a Manger', O Song of Joy (Jesu, Joy and O Tannebaum) and 'Joy on Deck'. On a slightly different tack, Lombardo's 'Santa's Symphony' (again in the expandable format) combines carols with popular classics. Watch out for Eine Kleine, 1812 Overture, The Nutcracker and even some Brahms! This is such fun and perfect for most Christmas occasions – a real winner. Jingle Bell Prism, another gem from Ann Cameron Pearce, is a classic. Here she gives this song the real treatment – 7 different styles from a 16th century Venetian Madrigal to Boogie-Woogie and Beach Rock. It works
perfectly well with C flutes only but will take a bit of practice. Oh so worth it though!
And finally – what about a Christmas piece that is completely original? Kathleen Mayne's 'Christmas Overture' tells the story of the Nativity. The beautiful opening melody in F minor sets the scene of the 'Cold, Still Bethlehem Night' before the music becomes more rhythmic for 'The Visit from the Magi'. Playful music depicts 'The Curious Stable Animals' before the lilting 'Mother Mary's Lullaby' builds to an eventual grandioso conclusion. Lasting 6 minutes this is a substantial piece that will reward the work needed to perform it well and enhance any Christmas concert.