It's an exciting fact that bass flutes are becoming both cheaper and more widely available. Many flute groups now have one and schools and colleges are starting to use them too. The solo music written for this lovely instrument is also developing, which gives us a great opportunity to explore all its possible colours to the full.
If you are in the lucky position of having regular access to a bass flute, the best place to start is with music you already know. Keeping in the low register will help you find your balance before you venture into the higher reaches of the instrument. Baroque sonatas are a really great way to branch out, but try the Fauré Sicilienne or the easier works of Gaubert to really start exploring those expressive low sonorities.
Whilst it is still true that most original repertoire is challenging both in terms of instrumental technique and musical style, there are some pieces that are more approachable. You can always rely on Gary Schocker to come up with something appropriate, and his Small Sonata for a Large Flute is very well put together. The opening Moderato stays mainly in the low register with gentle running semiquavers, and a typical Schocker-style engimatic melody weaves its spell in the substantial slow movement Cantabile. The Snappy third movement will extend your technique considerably with the crisp rhythms needing good articulation. Flutter-tonguing and a larger note range add yet more interest.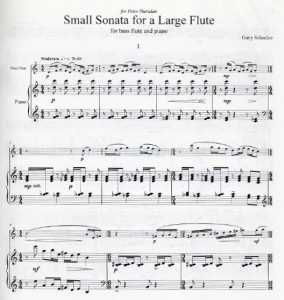 Blessings and Celebration by Phyliss Avidan Louke is also very easy on the ear as well as the eye. Blessings is prayer-like and works really well on the bass. The rhythmic Celebration is dance-like and fun.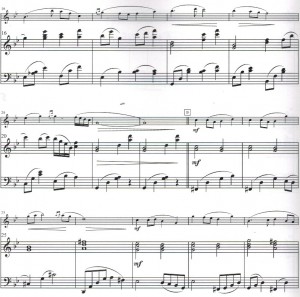 For something more atmospheric, try Karuna by Bill Douglas. Based on the Sanskrit word for compassion, this short piece has a hypnotic quality, created by a repetitive semiquaver pattern and eastern sounding intervals. Ideally suited to the bass, this really enables you focus on its wonderful timbre.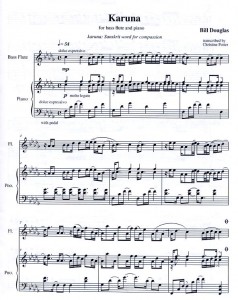 At some point though you will want to start investigating the world of the more exotic. Extended techniques, accompanying electronic sound tracks, and seemingly impossible rhythmic combinations can all seem to make this part of the journey rather daunting. Yet the bass flute is ideally suited to this genre, so are here are two gems to get you started:
She Cried by Shiva Feshareki is a slow solo piece which uses simple rhythms and limited extended techniques to make it's mark. Feshareki is very specific about sounds here, with glissandi and note bending complementing the instructions to vary the tone itself, and this is a marvellous piece for anyone to try.
Michael Oliva's Moss Garden for bass flute and electronics will extend your range even further. You will need a decent sound system for performance but just to practise this with your computer to hand will be a great experience. There are not many notes here, but the low frequencies of the the track coupled with the bass flute sonorities enable Oliva to achieve the beautiful simplicity conveyed by the title.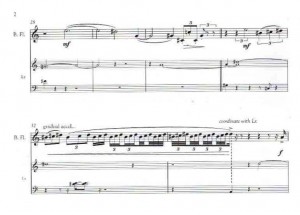 And finally, the Alto and Bass Flute Resource Book by Christine Potter takes an interesting look at various aspects of both the low flutes. There are tips on buying a new flute, general playing advice and useful information about repertoire. This is full of good things that will help you on your way.
View the range of music available for bass flute at justflutes.com