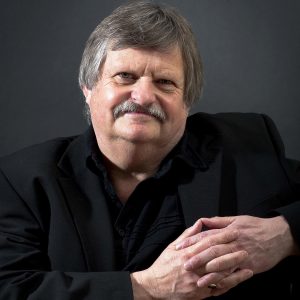 It's lucky for us flute players that jazz pianist-composer Geoff Eales and the talented Andy Findon are such good friends. As a direct result of their collaboration for the CD The Dancing Flute, we now have some of the best flute jazz music to play for ourselves.
Eales studied composition with Alun Hoddinott and wrote award-winning large-scale orchestral works before he became more interested in jazz. His stellar career since then has enabled him to carve out a niche as an improviser, and it is these two aspects of his style that underpin all his works for the flute.
Dreamy Melodies
Eales certainly knows how to write dreamy melodies. Song For My Mother is beautiful, with a simple tune over a sustained accompaniment. There is no huge technical challenge here, but the 16-bar piano intro sets a relaxed ambience for the whole piece. There is a real feeling of freedom in the flute writing which is quite enchanting.
Remembrance is in a similar style, but the minor key adds darker sonorities. This is captivating, drawing you in as you play – absolutely lovely!
Change of Tempo
If you're in the mood for something upbeat, Eternal Dance is rhythmically tough with 7/8 alternating with 5/4 in the manner of Bartók (the metronome marking is 162, so this is a real workout!). In a completely different style is Elf Dance. Here three fast and furious sections alternating 6/8, 3/4 and 5/4 contrast with something slightly more lyrical to produce an exciting piece that's always on the move. Farewell Patagonia is different again with a driving tango rhythm taking us to South America. In all of these works the piano is so important, and there are frequent improvisatory-style piano introductions and breaks. This makes the performances even better!
Music for Other Flutes
Geoff has also written repertoire for other members of the flute family: there isn't much original music for penny whistle, so In The Eyes Of A Child is very special. A simple lullaby in waltz time, this is a piece that wonderfully captures the innocence of youth. You can of course play this on the flute but it really does sound great on a quality whistle!
This could not contrast more starkly with Force 11 for piccolo and piano. The performance direction for the opening improvised section here is manically and atonally and this leads on to the notated main body of the work that is marked demonic! This will stretch even the most accomplished player with its extreme range and relentlessly changing times. Intensely fun!
For low flutes, Geoff has written us two gems. Lochria's Rhumba for alto flute and piano is a real fusion of styles. The mysterious melody is based on the Locrian mode and weaves its way enticingly around the lower reaches of the alto. The accompaniment adds a slow rhumba to the texture. The result is another laid-back and free work that casts an evocative spell over the audience. His work for bass flute and piano is Ice Maiden, another hypnotic piece which is again really sultry. The pulse is more clearly defined here with gentle syncopation in the piano allowing the sensuous sound of the bass flute space to sing the rich melody. Both these pieces are extremely well crafted for each specific instrument, using it to its maximum effect and reflecting the individual character.
Jazz for flute doesn't come much better than this. Geoff and Andy – thank you!
Geoff Eales's music is published by Astute Music and is available from Just Flutes.