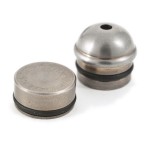 Recently there has been some debate over whether the cork assembly inside the headjoint makes a difference to the way the flute plays and feels. Many headjoint makers and flute enthusiasts have been experimenting with different materials and set-ups, and several alternatives are already available through specialist shops. In this article I want to demystify this subject and find out whether there really is truth to it.
Robert Bigio has been making stoppers and crowns for flutes out of different materials for a couple of years now. I remember that when I first saw his Zirconium flute stopper I have to admit that I was more than a little sceptical and didn't really give it a second glance. I remember standing with some other players while one of them played a couple of headjoints with and without these stoppers. We all decided that there was indeed a difference in the sound, but we couldn't put our finger on it.
It's now a few years later, and Altus have launched a headjoint with a regular cork assembly, but three interchangeable crowns in heavy, medium and light weights. Again, I did not at first take much notice in this development until I was at a Flute Cocktail weekend in Bodmin with Gareth Davies.
Gareth was using one of these headjoints on his new Altus 'AL' flute, and he told me how he prefers the light crown compared to the other two. I thought that if one of Japan's finest flute companies was producing different crowns, and one of the UK's finest orchestral players was playing one, perhaps I should give these a try! I also have an Altus AL headjoint, so I tried the heavy and light crowns. I really can not tell you how much difference they made: it was vast!
With the heavy crown, I found that the sound became more focused and the top register really started to sing out. I felt that the lower register became slightly reduced power-wise, but I was happy to pay the price. I then wondered: what if I change the whole cork assembly?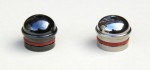 On returning to Just Flutes, I took the crown and cork assembly from my headjoint and swapped them for a Robert Bigio Zirconium stopper and crown. My earlier reservations went out the window: I believe it put even more life into my sound than the Altus crown: more top end harmonics, a more powerful tone, and a little bit more resistance.
I then tried David Symington's "Flutemet" stopper and crown. David Symington has been experimenting with crowns and stoppers in various materials for some time, and the Flutemet is the culmination of this. Made from a very dense and hard alloy, this is one heavy piece of kit! Even on a flute with a B footjoint, the headjoint was still the heavy end! For me, this set-up had beautifully resonant middle and upper registers, and made the headjoint substantially more resistive. Unusually, these stoppers are also available for piccolo.
In conclusion I found it an invaluable experience to try these different stoppers. I can't say that they're for everyone, and maybe not all players will feel or like the difference; but there is definitely something in the hype. Try them for yourself: you might find that you're pleasantly surprised, like I was.
Alternative flute crowns and stoppers – and piccolo ones – are available at Just Flutes who can ship worldwide.